PTO Events

The Cotteral PTO now has a Facebook group! For the most up to date information please join the Cotteral Parent Facebook group.
Click here:Cotteral Parents
---
"Box Tops for Education"

Fundraiser
All Year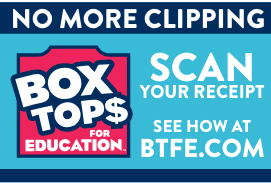 Cotteral Elementary will be collecting Box Tops for Education all year long. Box Tops for Education is now an app. If you see this label on all product, you can use the Box Tops app to scan your receipt. The app will find participating products purchased at any store and instantly add cash to your school's earnings online. Please note that some Box Tops products are not labeled; check our product list for a complete list of participating products. To date Cotteral Elementary has received $3,014 from this program…lets collect as many as possible and make this our highest year yet!
Please find participating products and additional information at www.boxtops4education.com.
---
"Goldfish and Capri Sun" Fundraiser Every Friday!



Cotteral PTO offers "Goldfish Friday"! Calling all Volunteers!!! We are in need of volunteers for morning and afternoon time slots to sort the Goldfish and Capri Sun and deliver it to classrooms.
***Goldfish and Capri Sun events will be held every Friday of each week throughout the year. Our kids bring $1.50 and get Goldfish and a Capri Sun delivered to them in their classroom. Profits from Goldfish Fridays and other PTO fundraisers this year will help pay for our Teacher Appreciation events and help achieve our 2020-2021 PTO goals.
Stay tuned for many more exciting Events and Volunteer Opportunities!!!