Yearbook and Senior Salute Ads
Early Bird Special!
Yearbooks and Senior Ads will go on sale in mid August. Check this website after September 11th for order forms and other information.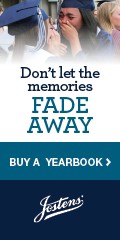 Click photo
Senior Ads for the back of the 2020 Yearbook are now on sale. The Yearbook Staff is offering a discount until Friday, October 26th, 2018. If you can't take advantage of the discount price, we will still be selling ads until Friday, December 7th, 2018 at full price. See the attached order form for all the instructions and information to submit your senior ad. Click the hyperlink below in yellow highlight.
Senior Ad with Discount Pricing