Yearbook, Senior Portrait Day, and Senior Salute Ads
Senior Portrait Day:
Seniors will have their portraits taken professionally on Wednesday, September 30th during the school day. All GPS students (including Bluejay Academy and Faver) will have their photos taken on this day. If you are a Bluejay Academy student, you can show up at any time during the academic school day to get your photo taken. Portraits will be taken in the north gym.
Yearbook and Senior Salute Information:
Yearbooks and Senior Ads will go on sale in mid August. All seniors will receive an order form for a yearbook and an order form for a Senior Salute for the back of the yearbook. You can receive a discount on your Senior Salute if you pay and turn in all your paperwork by Friday, October 16, 2020. All seniors and/or parents should join the Google Classroom for the Class of 2021 with the passcode m7yi4gz. This Google Classroom will have forms and announcements pertaining to the senior class (both yearbook info and senior class info).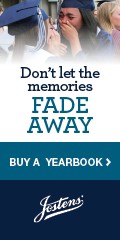 Click photo
Senior Ads for the back of the 2020 Yearbook are now on sale. The Yearbook Staff is offering a discount until Friday, October 16th, 2020. If you can't take advantage of the discount price, we will still be selling ads until Friday, December 11th, 2020 at full price. See the attached order form for all the instructions and information to submit your senior ad. Click the hyperlink below in yellow highlight.
SENIOR SALUTE (AD FOR THE BACK OF THE YEARBOOK)