Alumni and Homecoming Information
WELCOME TO THE HOMECOMING & ALUMNI PAGE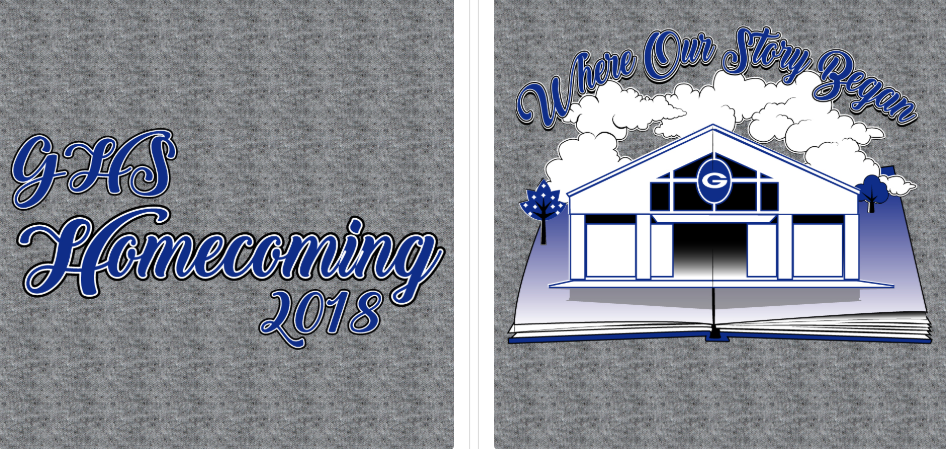 Guthrie Fall Homecoming 2018
"Where Our Story Began"
8:00- 8:55 a.m.

Alumni Registration at the H.S. (coffee, donuts, reunion class shirts)

9:00-11:00 a.m.

Alumni Program at the H.S.

(Performances by the GHS Band, Choir, Pied Pipers, Drama Club, Cheerleaders, and a

Presentation of football/organizational royalty and new Hall of Fame inductees.)

11:15 a.m.

Student Assembly at H.S. (time approximate)

1:10 p.m.

District-wide early dismissal; buses will run at this time

1:45 p.m.

Parade Lineup

2:30 p.m.

Parade Begins

The parade route starts at the Masonic Temple (Capitol and Oklahoma) travels west on Oklahoma, turns south on 2nd, turns east on Harrison ending at Jelsma Stadium.

7:00 p.m.

Kick-off at Jelsma Stadium m with Tailgating beginning at 5:30 p.m.
---
Homecoming Court
Senior
Attendants Escorts
Madison Springer Dylan Dollar
Blakeley Huskey Trenton Scannell
Bailey Cornwell Justin Ergang
Lilli Goode Jackson Waddell
Faith Anderson (returning queen) Dominic Goosby
Junior
Sierra Sallee JD Coonfield
Sophomore
Hannah Smith Macen Campbell
Freshmen
Kyra Wheeler Jake Hughes
Athletic Hall of Fame Class 2018
William (Bill) Wells 1992- Wrestling
Joe Bartram 1993- Track & Cross Country
Kyle De'Andre Smith 2003- Football
Roland D. Miller 1995- Basketball
Kye Staley 2008- Football
Petrina Lamb 2005- Track & Cross Country
Shannon Friday 1992- Golf
CLASS REUNION INFORMATION
To post information for class reunions, please e-mail us:
---
Class of 1988 30-Year Reunion
Friday morning GHS assembly
Parade, football game
Saturday night Stacy's place dinner.
Saturday night dinner buffet at Stacy's place. The buffet will consist of 2 meats ( fried chicken is one and most likely pot roast ) green beans, mashed potatoes and gravy, fresh hot rolls and corn bread muffins, salad bar and sweet treats. Stacy said there will be a variety of sweets from brownies, to cookies, to sweet breads, and pies and Iced tea or water. This is an all you can eat buffet. $25.00 per person. There will also be a cash bar.
I know lots of people are saying that is a lot of money for a $15.00 buffet. After talking with Stacy she said that when they do have a buffet it is typically $19.00 a person. I checked with Stables as well and there buffet is $19.99 per person. What some people aren't taking in to consideration is the fact that the Class of 88 and one other class are the only people who will be in the building... yes Stacy is closing the restaurant for us! We can have the place until 12:00 am.
The $25 fee will also include light decorations and the tip for our wait staff.
If you have any questions please do not hesitate to ask. Hope to see you all at this reunion!
Thanks,
Codi Canning
---
Class of 1993 25-Year Reunion
Please make plans to attend the Class of 1993 25th Reunion, Sept 28th and 29th. Please register for the Parade, T-shirt and Dinner at this link https://guthriehigh1993.ticketspice.com/ghs93-25-year-reunion
You can also contact Brenda Duncan at 405-210-4476 or Chirs Bono at 405-323-3237
---
Class of 1998 20-Year Reunion
Find all our reunion information at: https://ghsclassof1998.ticketspice.com/ghs-class-of-1998-20-year-reunion
or contact Shana Bench at ghsbluejays98@gmail.com
---
---
GHS yearbooks from prior years have been scanned and placed on CD's. They are for sale for $10 each. They can be purchased in the GHS library.
---