Yearbook and Senior Salute Ads
Early Bird Special!
Purchase your yearbook online today! Click the image below for the link.

From now until December 31, 2017 the price is $65. After that date, the price increases. If you would like to pay with check or exact cash, order forms can be printed from this site on the green hyperlink below. Just click the link below or you can pick up an order form in both offices and from Mrs. Simonton.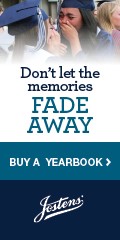 Click photo
Senior Salute Ads
Senior Parents/Guardians buy your Senior Salute for the back of the yearbook with the form below. All ads will be due no later than December 1, 2017. Please remember that all photos must be submitted digitally; this means photos need to be on a flashdrive or photo CD. Do not email photos. Click the blue hyperlink below.