Library News
February 2019
Week 4 (Feb 25-Mar 1 - see previous weeks below): Online Kindness & Safety (Learn More about Be Internet Awesome)
Play Interland/Be Internet Awesome with Google
Thank you for your support for our book fair! We raised almost $3000 for our library!
If you would like to take your child to meet amazing authors in our area, they often visit Best of Books in Edmond (off of Danforth Road). Here is the list of upcoming authors. March is filled with ones they love. March 9 includes our recent guest Kim Ventrella with her second book, Bone Hollow (which I read and enjoyed!), Lisa Graff on the 13th (the author of one of our 2018 Sequoyah picks The Great Treehouse War), Andy Griffiths is coming from AUSTRALIA, and the EVER-POPULAR Nathan Hale on March 27).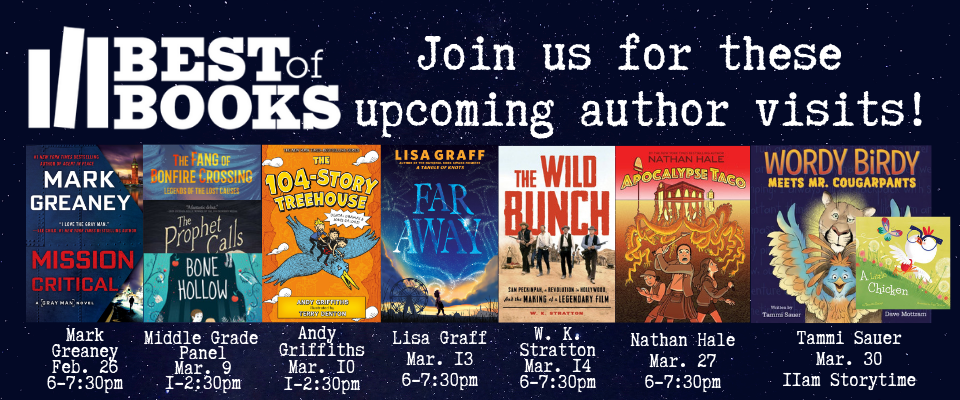 In January, we practiced coding using Scratch; and we made booktalk videos about our favorite books using Flipgrid. I introduced students to the author, Marie Maranda Cruz and her starred book, Everlasting Nora. I feel so fortunate that we have the opportunity to be penpals with her this semester. Her book takes place in the Philippines in the North Cemetery. Visit her website for videos and articles about it. We also learned about award-winning books like Caldecott & Newberry award winners (in celebration of the 2019 awards - See them all here). We watched videos/book trailers for books in our new book fair (1st middle school book fair) and recent releases.
In February, we are studying kindness. We first watched Jaqueline Woodson's powerful book, Each Kindness, and then did a kahoot quiz over it.
We watched other videos about kindness the second week and read Loren Long & Matt de la Pena's book LOVE. We made origami heart bookmarks to leave hidden in books as random acts of kindness. The third week we will be studying kindness toward all people and celebrating Black History Month while reading To Be a Drum, read by James Earl Jones. We will be making a quilt comprised of patterns used in slavery quilts, representing kindness to all people. The last week, we will be learning about kindness online and cyber/Internet safety.
Recent online articles of interest:
5 Reasons Why Reading Aloud with Older Kids Is the Absolute Best - This article is from Brightly, a great source for finding books for your child. They frequently list best-of categories, including this recent one about Jacqueline Woodson's books. We recently participated in a webinar in which she gave a shout-out to Guthrie Upper Elementary School! You can watch the webinar here: https://www.youtube.com/watch?v=rRh_UDFX83U&feature=youtu.be
Policies and Procedures
Media Center Hours: 7:45* – 3:10
Checkout: Students may check out two (2) books at a time for a two (2) week period. They may renew twice. Books must be brought to the Media Center to be renewed. Teachers and staff may check out books on an unlimited basis.
Students have regular access to the Media Center for book exchange through Library. Students may also visit the Media Center after school and from other classes with permission from their teacher.
Lost or Damaged Books: If a book is lost, the student is responsible for the cost of the book. You can purchase a copy of the book and return that, also.
Rules & Expectations
Listen and follow directions.
Raise your hand before speaking or leaving your seat.
Respect your classmates and your teacher.
Keep your hands, feet, and objects to yourself.
Voice level should always be level 0 or level 1. That is respect for how you should act in any library.
Parent Volunteers: If you would like to help with special projects in the Media Center, please contact Mrs. Shana Fields or Mrs. Gretchen Hanna, the media assistant.
Skills that may be covered this year in the Library include:
Using the Dewey Decimal System
Internet safety
Using Internet technology
Digital citizenship
How to use public library resources
Plagiarism
Research/MLA
Careers
Banned book awareness week
Genres
Poetry
Books in verse
Book talks/trailers on new and recommended books
Resources for Families
Newberry Award Information & List
Sequoyah Book Awards Information & List (Oklahoma Winners)
Students in grades 3-5 who have read or listened to at least three titles from the Children's Masterlist are eligible to vote for the Children's Sequoyah Book Award.
Students in grades 6-8 who have read or listened to at least three titles from the Intermediate Masterlist are eligible to vote for the Intermediate Sequoyah Book Award.
Students vote for a favorite title in February and March, and ballots should be submitted to the Oklahoma Library Association by March 15th each year.
Internet Safety for Families
Google Online Safety Roadshow
Cell Phone Parenting Tips – This site has videos parents can use to teach your child about appropriate cell phone usage.
FBI Publications: A Parents Guide to Internet Safety
Internet Safety Game: ID the Creep
NetSmartz – Real life stories from teens who have experienced victimization firsthand. This resource teaches kids to evaluate their online choices.
iSafe America: I-Safe is a non-profit foundation whose mission is to educate and empower youth to make their Internet experiences safe and responsible. Includes news and tips on safety, games and links to safe online experiences.